Living Soil With Our First Customer: Smokey's Cannabis Co
Meet Our First Customer! Smokey's Cannabis Co was Sana Packaging's first customer. As w...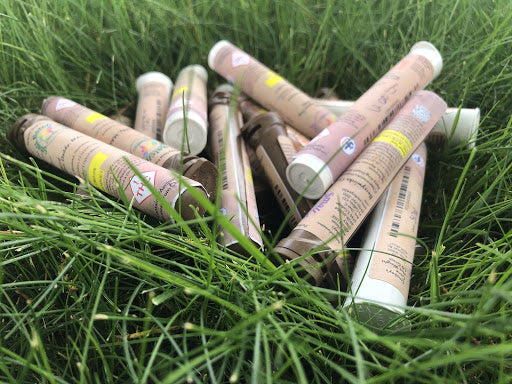 Meet Our First Customer! 
Smokey's Cannabis Co was Sana Packaging's first customer. As we launch our new Customer Blog Series we want to feature clients who have made long-standing commitments to sustainability. We were lucky enough to sit down with Robb Mueller from Smokey's Cannabis Co and gain some insight into who they are. 
Located in Garden City and Fort Collins, Colorado. Smokey's Cannabis Co aims to help people comfortably explore the world of cannabis by providing the best possible experience through sustainability, education, and exceptional products.
Our Interview With Smokey's Cannabis Co
Tell us a little bit about Smokey's Cannabis Co
Smokey's started in 2009 as Cannabis Care Wellness Center and changed its name in 2014 to Smokey's 420 house. Trying to steer clear of the too narrow stoner culture, Smokey's rebranded in 2018 as Smokey's Cannabis Co focusing on a more informed clientele and our Living Soil grow.
Smokey's is a retail operation as well as a grow and distribution center located in Garden City with a second retail location in Fort Collins.  Smokey's aims to help people comfortably explore the world of cannabis by providing the best possible experience through sustainability, education, and exceptional products.
Open Every day. Serving Medical and Adult Use clients. 
How did you become involved in the cannabis industry?
I started in the cannabis industry in 2011 out in California working for a small medical only shop in San Diego and moved back to Colorado in 2016. I found Smokey's in 2019 and immediately fell in love with the culture and their ethics.
Having suffered from chronic pain and finding the medicinal benefits of cannabis I was drawn to the idea of helping the people of Colorado find the same relief as I had, as well as the ability to focus efforts on helping improve the outlook of cannabis in our community through our ongoing philanthropic efforts. 
Smokey's was Sana Packaging's first customer, what inspired you to make the leap to sustainable packaging and to take a chance on a startup like ours?
We knew from the very beginning that Sana Packaging was going to make a difference in an industry plagued with a tremendous amount of waste. With their 100% plant-based hemp plastic and 100% reclaimed ocean plastic pre roll tubes we knew they were on the right path and shared a similar business ethos.
We were pleased to jump in and place that first order and start a new partnership with such an amazing company. Smokey's talks the talk of a sustainable future and walks the walk to that sustainable future.
What other sustainability initiatives are you taking to be more environmentally conscious (besides packaging)?
Both of the Smokey's locations are set up for composting and reusing valuable resources, cutting down on the amount of waste we produce. We also offer a recycling program to our guests taking back their used cannabis packaging including our Sana Packaging pre-roll tubes and other vendor containers.
We have also achieved the Bronze level in the CDPHE Environmental Leadership Program for 2020 and are currently working towards the Silver level for 2021.We also have education and resources for our guests focusing on sustainability and recycling here in Colorado.
Smokey's is known for its regenerative cultivation practices, when did you make the switch to living soil? Can you tell us a little bit about that process?
We made the switch to living soil at the end of 2016. Previously, we were using salt based bottled nutrients to force feed plants grown in a soilless medium. This soilless medium had practically no life in it, and we were throwing it out at the end of each cycle (along with all of our plant waste).
Because we were using salt based nutrients, we had to thoroughly flush each flower room with thousands of gallons of water at the end of the cycle in order to remove any remaining nutrients.
Now that we cultivate in living soil, our medium is alive and full of many different forms of life that together make up the soil food web. The soil food web is a complex community of organisms (think ecosystem) that transfer energy and cycle nutrients as they consume, grow, excrete waste, reproduce, etc.
In a healthy living soil, the plants tell the soil what it needs, and in turn the soil feeds the plants. As living soil cultivators, we reuse our soil over and over by amending the soil with organic matter (compost, leaf waste, dry amendments, etc.).
We no longer throw away our medium after every harvest like we used to, and we don't have to flush anymore (water conservation). We compost as well as ferment our plant waste, and then feed it back to the soil to close the loop and divert our waste from the landfill.
We quickly learned in the beginning how important it is to continuously add organic matter/nutrients back into the soil when growing with organic methods. It takes time for the soil food web to cycle nutrients and make them plant-available, so we had to learn to resist the urge to reach for the synthetic nutrients of our past.
We now have our soil tested after every harvest for nutritional content so we can make any necessary adjustments for optimal plant/soil health. Living soil is the way! 
What has been your biggest challenge as the Colorado cannabis market continues to grow and evolve?
One of the largest hurdles we face is the ongoing conversation of potency over quality cannabis and terpenes. Consumer education that there is a difference in quality using an all natural growing method is difficult. We still battle the question of what is your cheapest ounce with the highest THC.  
What is your most popular product (or strain) and why? 
Smokey's has many popular and consistent strains including our award winning Silver Mountain strain as well as 12 other premium cannabis strains including Sour Diesel, Blueberry Headband and Smokey's very own DOG which is high in CBD. 
What environmental issues are most important to you and your community or region?
Regenerative Agriculture is very high on our priority list both locally and internationally. Smokey's is a leader in the "Living Soil" movement and we work closely with the CDPHE in their Environment Leadership Program (ELP).
We work daily to reduce the waste and byproducts produced by the cannabis industry and constantly look for ways to reduce, reuse and recycle when the first two options are not possible.
What are some of your favorite aspects of working in the cannabis industry?
Working in the cannabis space has been very rewarding working with nonprofits and helping de-stigmatizing cannabis.
Learn More About Smokey's Cannabis Co
Sana Packaging had a great time sitting down with Smokey's Cannabis Co and learning more about their living soil operation, eco-friendly initiatives, and amazing staff.
We hope that our Customer Blog Series puts a spotlight on the companies who continuously do the right thing for the planet and its inhabitants! Thank you Smokey's Cannabis Co!
Visit the Smokey's Cannabis Co website here.