Going Green in the Peach State: The Georgia Hemp Company
Meet The Georgia Hemp Company! The Georgia Hemp Company is dedicated to delivering high...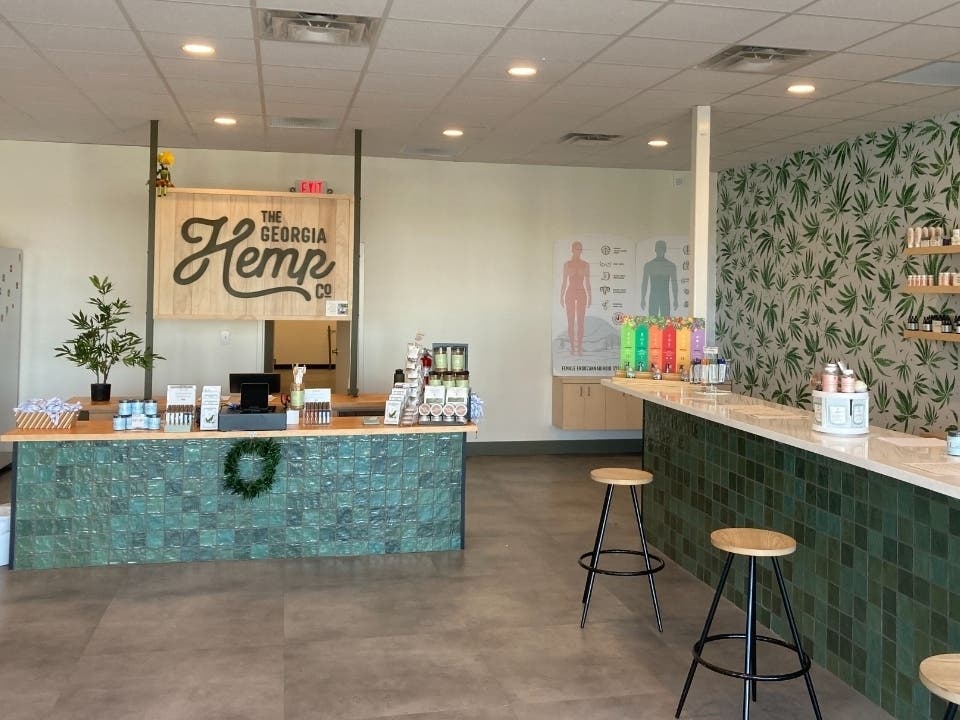 Meet The Georgia Hemp Company! 
The Georgia Hemp Company is dedicated to delivering high-quality hemp products and advocating for the growing awareness of hemp and CBD education. 
The Georgia Hemp Company is a steward for the continued sustainable growth of the hemp industry and to be successful in that effort, they're always looking to expand their offerings. 
The Georgia Hemp Company currently has three retail locations across the Peach State: one in Decatur, one in Sandy Springs, and one in Woodstock. 
Sana Packaging has been working with the Georgia Hemp Company since July 2020 and we were lucky enough to sit down with co-founder and owner, Joe Salome, for an informative interview about hemp, CBD, and going green in a traditionally conservative state. 
Our Interview with The Georgia Hemp Company
Tell us a little bit about Georgia Hemp Company
The Georgia Hemp Company serves CBD and Hemp products to enthusiasts, newcomers, tourists, and those seeking the numerous plant-based benefits.
Our store offers a consultative and educational buying experience designed to make shopping and learning about products an enjoyable and meaningful part of using cannabinoid products.
Before co-founding The Georgia Hemp Company with Ryan Dills, I was a Marketing Executive at 790 the Zone and Moe's Southwest Grill. Ryan is a successful serial entrepreneur and water conservation advocate. 
Together, we have nearly two decades of experience crafting and delivering high-quality cannabis and hemp products on both a local and national scale. 
How did you become involved in the hemp and CBD industry?
When I was a freshman at Kennesaw State University, my father died suddenly. I moved back in with my mother while continuing my degree. I turned to cannabis to ease my depression.
My mother, a nurse, had given me a copy of Reefer Madness but also access to Cheech and Chong movies.
Then my mother was diagnosed with cancer, and I feared I might lose her too. I took care of her, using medical cannabis to help get her through. And much to my relief, she made a full recovery.
As a kid, I knew people using weed recreationally but as I got older, the reasons were different. People would tell me they were using medical cannabis "for my wife, who has Crohn's disease," or "for my son, who has epilepsy."
Medical cannabis had helped my mother, and I thought it was a tragedy that so many people were denied similar healing and relief.
I thought it was wrong that people suffering had to rely on dangerous opioids and other brutal pharmaceuticals and that's why I decided to start The Georgia Hemp Company with my partner, Ryan Dills. 

What sustainability initiatives are you taking to be more environmentally conscious (besides packaging)?
When we got into this industry we knew there was a problem with packaging and materials used for products. Packaging was made out of plastic, mylar bags, and metals that were being thrown away at a very high rate.
After we got the business established we were able to make more environmentally conscious decisions with our packaging and that's how we found Sana Packaging and Calyx Containers.
We were impressed with how Sana Packaging uses a hemp plastic for their packaging, which was the perfect answer to our pre-roll joints and vape cartridge packaging needs.
Calyx Containers uses a technologically advanced material using ocean reclaimed plastics that is recyclable but also biodegradable if it's not recycled and thrown in the trash. 
In addition, each one of our store locations has a recycling bin where we recycle vape cartridges, joint containers, gummy containers, and any other plastic that can be recycled. When our customers bring these back in we give them 10% off their next purchase.
Each month we find ourselves making a trip to the recycling center to drop off multiple bags of all the reclaimed units. I think for my generation the "reduce, reuse recycle" theme has been stuck in our heads and made us aware of the choices we make in business and how we can leave a better footprint.
So little by little as we move forward we like to add more sustainable options to our business. 
What has been your biggest challenge as the hemp market in Georgia continues to grow and evolve?
Our biggest challenge with the Georgia hemp market has been keeping up with the demand and pivoting when necessary.
When Delta 8 first came out we had no idea how much of a boom it would have  to the industry. We've now shifted most of our sales to specifically Delta 8 products.
Are there any challenges unique to operating in a traditionally more conservative state?
100 percent. In some areas of Georgia, people have a bad perception of hemp products. People fail to distinguish that though marijuana and CBD come from the same plant, CBD has significantly lower levels of THC and therefore doesn't cause the same high.
What do you think the future of the Georgia hemp (and cannabis) industry will look like as legalization continues to become more widespread?
At The Georgia Hemp Company, we operate on the mentality of "inches lead to miles" and being as intentional and authentic in our actions as possible. As legalization continues to become more widespread we want to feel good about the service, education, and products represented by our brands. 

You have three retail locations - one in Decatur, one in Sandy Springs, and one in Woodstock - how have these different communities embraced the benefits of hemp and CBD?
The response from these communities has been amazing. Our number one priority at The Georgia Hemp Company is education, and now with the addition of our third store, it feels great to give back to the community and show them the amazing benefits of hemp and CBD. 
How do you go about sourcing the hemp and CBD products you carry? Are there specific things you're looking for in a partner? 
When sourcing hemp and CBD products, we always seek to find the finest ingredients on the market. A lot of people like to say that, but I think the proof is in the pudding with our products.
We don't call ourselves "Georgia's Finest CBD" for nothing. My business partner Ryan and I are always seeking out ingredients to make sure our customers get the best. 
We choose partners that believe the same lines that we do: do what you can when you can. We do think hemp can help change the world and change our environment for the better at the same time. 
What is your most popular product (or strain) and why?
Our most popular product by far is our line of Delta 8 gummies. Delta 8 has taken off tremendously since we started selling it in October 2020 and our gummies offer a fun and discreet way to get your daily serving of Delta 8. 
What environmental issues are most important to you and your community or region?
Water conservation is an issue that is really important to me and Ryan, as well as our community.
Ryan is the Executive Vice President of Green Plumbers USA, an organization that trains plumbers to promote the benefits of water conservation and the reduction of greenhouse gasses. 
What are some of your favorite aspects of working in the hemp and CBD industry?
Our favorite aspect of working in the hemp and CBD industry is helping people get their lives back. People are suffering and we're offering them natural alternatives for living happier healthier lives. 
Learn More About The Georgia Hemp Company

Sana Packaging had a great time sitting down with Joe Salome, co-founder and owner of The Georgia Hemp Company, and learning more about hemp, CBD, and going green in a traditionally conservative state. 
We hope that our Customer Blog Series puts a spotlight on the companies who continuously do the right thing for the planet and its inhabitants. Thank you to The Georgia Hemp Company!
Visit The Georgia Hemp Company's website here.