Top Tier Surfers & Top Tier Cannabis: 3 Bros Grow
Meet 3 Bros! A group of pro surfers turned cannabis connoisseurs created what is now 3 ...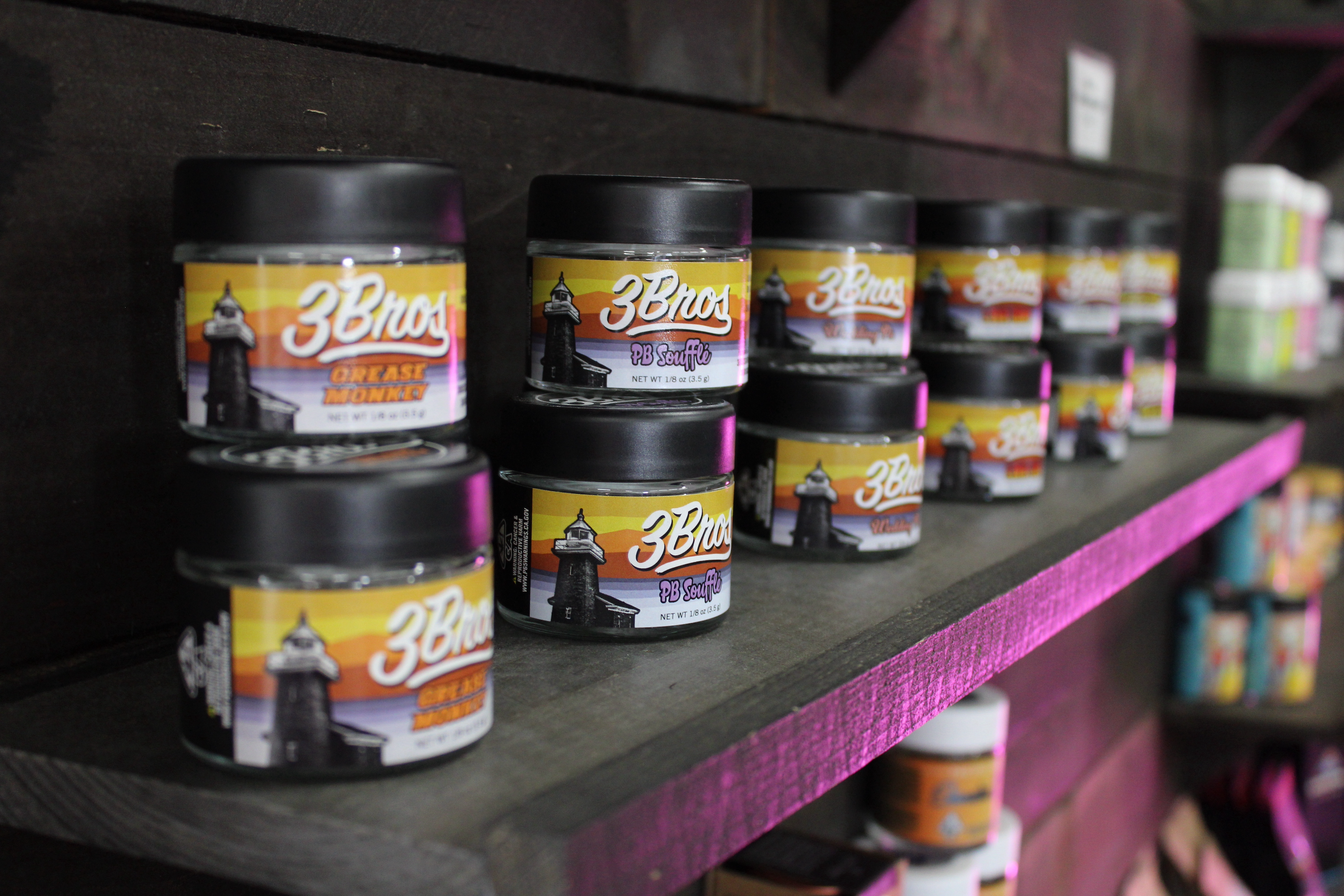 Meet 3 Bros! 
A group of pro surfers turned cannabis connoisseurs created what is now 3 Bros.
3 Bros is a vertically integrated operation that includes cultivation, wholesale product distribution under the 3 Bros brand, and a retail dispensary in Santa Cruz. They are passionate about quality products, the environment, and their community.
They have been a customer of ours since 2019 (our early days!) and have used over 2,759 lbs of our hemp plant-based plastic and helped remove over 2,890 lbs of plastic from the ocean using our ocean-bound and reclaimed ocean plastic.
We are so proud to call them a partner and we were lucky enough to sit down with Michelle Wan, Marketing Manager at 3 Bros, and dig into what makes their company so special.
Our Interview with 3 Bros 
Tell us a little bit about 3 Bros. 
3 Bros is a Santa Cruz based top-shelf cannabis cultivation brand. We make it our mission to offer only the highest quality cannabis products at an approachable price and in a sustainable manner.
We believe cannabis is medicine but we plan to use it to heal more than just people. From climate-positive business practices to community care initiatives, we aim to use our resources to give back to the planet and all who live here.
How did you become involved in the cannabis industry?
All the Bros grew up with love a love of cannabis. They were initially cultivators in the medical market, obtaining their first licenses in Monterey County.
They then moved on to the recreational market as soon as it became legal, accumulating multiple and varying licenses in the greater Santa Cruz area. 
What's the story behind the 3 Bros brand name? 
3 Bros was founded by 3 ex-pro surfers who all share a deep love of cannabis. The 3 Bros consist of Tyler and Russell Smith, and Mark Taylor - two brothers and a friend who grew up together on the Westside. 
3 Bros is a vertically integrated operation that includes cultivation, wholesale product distribution under the 3 Bros brand, and a retail dispensary in Santa Cruz - can you tell us a little bit about your journey as a company?
3 Bros first and foremost is a brand built from passion and love for the cannabis plant.
With that being said, we wanted to be deeply involved in every step of the process from genetics to growing, designing packaging, manufacturing, distributing, retail, etc.
We wanted to truly build a brand that represents us as individuals and our hometown, which is why we are vertically integrated.
Coming out of the surf and skate retail industry, we have a deep understanding of branding and brand identity and wanted to utilize that in combination with cultivation skill to create a truly personal brand.
When did you make the decision to transition to a carbon-neutral cultivation model and what obstacles, if any, did you face while executing on that vision?
We don't want to overstate our position, we aspire to become carbon neutral but we are still far from achieving that objective.
Some steps that we have taken include switching to LED lights for lower energy demand, recapture of all HVAC water to eliminate much of our need for external water, and of course using products that contain as much post-consumer recycled material and/or ocean plastic material such as Sana Packaging's products.
This sometimes means paying more for our packaged goods than our competitors, but we feel that additional cost is more than worth the environmental benefit.
What has been your biggest challenge as the California cannabis market continues to grow and evolve?
Insufficient federal regulations, overbearing compliance policies, and sky high taxes have been our biggest challenges.
Lack of access to banking means we do not have the same level of access to credit as other small businesses, we work more in cash than in digital and checks - all of which increase our costs in business.
Additionally, the heavy regulations on the cannabis industry add cost burdens both from a compliance and a tax perspective, far exceeding comparables in the alcohol industry or traditional agriculture.
Stigma against cannabis has been and continues to be an obstacle the entire industry faces that manifests in various ways.
For example, our retail store happens to neighbor a residential area and we have received pushback from our neighbors regarding signage and flags as well as non-cannabis related events we host.
Stigma against cannabis also impacts our online presence, especially on Instagram. The Instagram cannabis community is all too familiar with the infamous community guidelines that target us, threatening removal of posts and entire accounts, banning us from the explore page, etc.
The digital space, and especially social media, is a vital aspect of business now and it's very frustrating to be excluded from it. 
What is your most popular product (or strain) and why?
Our most popular strain is Grease Monkey, a cross between Gorilla Glue (GG#4) and Cookies and Cream. It tests high consistently and has a deep, gassy, and funky terpene profile that keeps people coming back!
However, Chocolatina is a close second, we have people asking about restocks all the time!
What environmental issues are most important to you and your community or region?
As a Santa Cruz brand founded by surfers, we have a strong connection with water and the ocean. As we all know, the water cycle and all other biological cycles are global, making sustainability a responsibility for us all.
As a brand that manufactures products, that means we are responsible for making sustainable choices from that ground up -- down to the sourcing, which is why we use Sana Packaging.
Additionally, we have hosted beach clean ups and make time for our staff to participate in clean ups hosted by other local brands. We also have water recycling systems built by the Bros themselves that reclaims and repurposes all of our HVAC water. 
As for our retail, we intentionally seek out brands that utilize sustainable packaging and/or brands that partner with environmental and community initiatives. 
As longtime members of the Santa Cruz community, what other community initiatives is 3 Bros passionate about? 
We love our local community and have a soft spot for small businesses as that's where we began our journey ourselves.
One of our largest and most recent initiatives is Healing Session: A Santa Cruz Community Market. Every month, we rent out a field to host a farmer's market style community event featuring live music, food trucks, and dozens of local small business vendors.
We titled the event Healing Session since the purpose is to heal and uplift small businesses which have been hit particularly hard by COVID.
We also host compassion programs for veterans at our store front, as well as other donation campaigns to support causes like Supernova Women (a BIPOC Cannabis industry nonprofit), the National Breast Cancer Foundation, and CZU fire relief programs. 
What are some of your favorite aspects of working in the cannabis industry?
We love the aspects of community and connection in cannabis. It's an industry that's so large, yet so small - everyone knows everyone already but there are always new characters to meet and new lessons to learn.
Cannabis is so powerful in the sense that it can instantly connect very different individuals from polar opposite walks of life.
Working in cannabis has also allowed us to turn our passions into careers and we are lucky to be able to say we love our jobs.
Not only can we indulge in our passions day in and day out, but growing cannabis also allows us to help others heal and change perspectives. 
Learn More About 3 Bros
Sana Packaging had a great time sitting down with 3 Brows and learning more about their business, sustainability goals, and community involvement.
We hope that our Customer Blog Series puts a spotlight on the companies who continuously do the right thing for the planet and its inhabitants. Thank you to 3 Bros!
Visit their website here.