How to Get Custom Hemp Packaging for Your Cannabrand
Hemp grows quickly, requires relatively few resources, and can be processed into countl...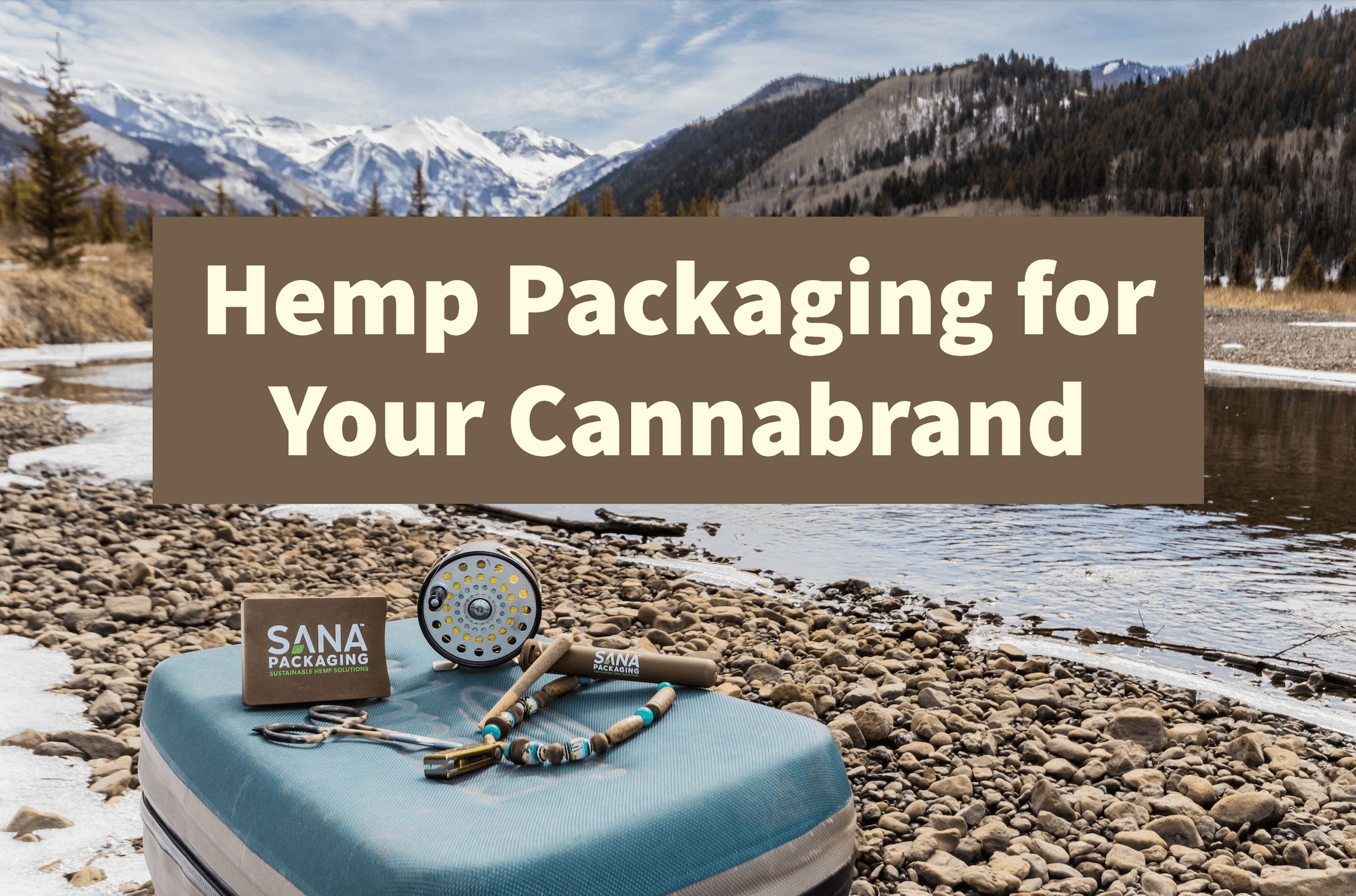 Hemp grows quickly, requires relatively few resources, and can be processed into countless products; It should be no surprise that it was one of the first crops ancient peoples cultivated as far back as 8,000 BCE. Despite its versatility and rich history, hemp fell out of favor in the United States in the 20th century. 
Recently, however, it has begun making a comeback. Sana Packaging is doing its part to use this incredible plant to create a more sustainable future, offering fully customizable hemp packaging as part of our central product line and partnering with like-minded companies. Read on to discover how your company can make a difference by choosing hemp packaging for your products. 
What is Hemp Packaging?
Generally speaking, hemp packaging is any type of packaging material made out of hemp. It can be further subdivided into several categories, though. 
What is Hemp Paper?
Hemp paper is multipurpose material manufactured in thin sheets from the pulp of cannabis plants explicitly cultivated for their fibrous qualities. 
Hemp pulp can be processed into anything from thick, sturdy paperboard to thin, smooth-burning hemp rolling papers. Though it can be dyed or printed on, natural hemp paper has a beautiful golden-brown color and a subtly textured appearance. 
What is Hemp Plastic?
Hemp plastic is made in part from the fiber of hemp plant's stalk. Sana Packaging uses a 100% petroleum-free, 100% plant-based hemp plastic biocomposite for all our hemp containers. Hemp plastic can be customized and naturally has a chocolate-brown color and unique texture, making it stand out on shelves. 
3 Benefits of Plant Based Hemp Packaging
There are more benefits to hemp-derived packaging than we can list here, but there are a few main advantages to using these materials. 
1. Lower Your Environmental Impact with Sustainable Cannabis Packaging
Hemp packaging has a lower overall environmental footprint than many other types of packaging. Hemp requires little water, grows quickly, and does not contribute to deforestation. 
Additionally, hemp-based plastics do not contribute to the massive amount of petroleum-based plastic waste already polluting landfills and waterways across the globe. 
2. Use Non-Toxic Materials in Your Custom Cannabis Packaging
Hemp packaging is inherently free of many of the toxic additives and compounds used to manufacture petroleum-based plastics. Avoiding toxic and potentially harmful ingredients is especially important when packaging consumable goods, such as cannabis and psychedelic products. 
3. Eco Friendly Packaging Materials Will Strengthen Your Brand Image
Finally, eco-friendly packaging is a great way to highlight your brand's values. Hemp packaging has a unique look that will stand out on shelves in dispensaries and smoke shops, especially when customized with your brand's label. It's important to keep your brand messaging consistent, and using sustainable packaging is a great way to emphasize that your company cares about the environment. 
What Kinds of Hemp Packaging Are Available?
Hemp packaging solutions are available for virtually any type of product. 
Hemp Plastic Boxes for Cannabis Flower Sales
Sana's hemp container is designed to hold cannabis flower but can package many other products, such as edibles, concentrates, and vape cartridges. The fully customizable and child-resistant lid adheres to cannabis packaging requirements (and doubles as a rolling tray), and the nested design allows for more efficient, eco-friendly transport and storage. 
Hemp Plastic Flower Pre Roll and Vape Concentrate Cartridge Tubes
Sana's hemp tubes are a unique, eco-friendly way to package and store pre-rolls, blunts, and vape cartridges. Our hemp tubes come in two sizes: 78mm hemp tubes are ideal for mini prerolls and smaller vape cartridges, and 110mm hemp tubes are perfect for king-sized prerolls, blunts, and larger vape cartridges. Both sizes feature child-resistant closures and can be customized with your brand's logo or label. 
Hemp Paperboard Boxes for Finished Cannabis Packaging
Sana Packaging has partnered with Hemp Press, a company as passionate about hemp and sustainability as we are, to supply your company with high-quality hemp paperboard boxes, inserts, and more. Fully customized hemp paperboard packaging can put the finishing touch on your cannabis or psychedelic product packaging. 
Sustainable Hemp Cone Wraps and Pre-Roll Hemp Rolling Papers
Your company can also choose to use hemp wraps and hemp rolling papers when packaging your flower products. We partner with Custom Cones USA to supply top-quality hemp rolling papers, cones, and blunt wraps to your cannabis business. These hemp wraps and rolling papers are available in several different sizes and varieties.
How to Customize Your Eco Friendly Hemp Packaging
Sana Packaging offers full customization services for all our products and works with local producers to ensure shipping is fast, efficient, and has the lowest possible footprint. We provide you with label templates to ensure you have the sustainable packaging materials you need when you need them.
Contact Sana today to learn more, request a free sample, and join us as we make the cannabis industry more sustainable through hemp packaging.