The Future of Sustainable Cannabis Packaging for Pre Rolls
In recent years, pre rolls have become some of the most popular items in the cannabis i...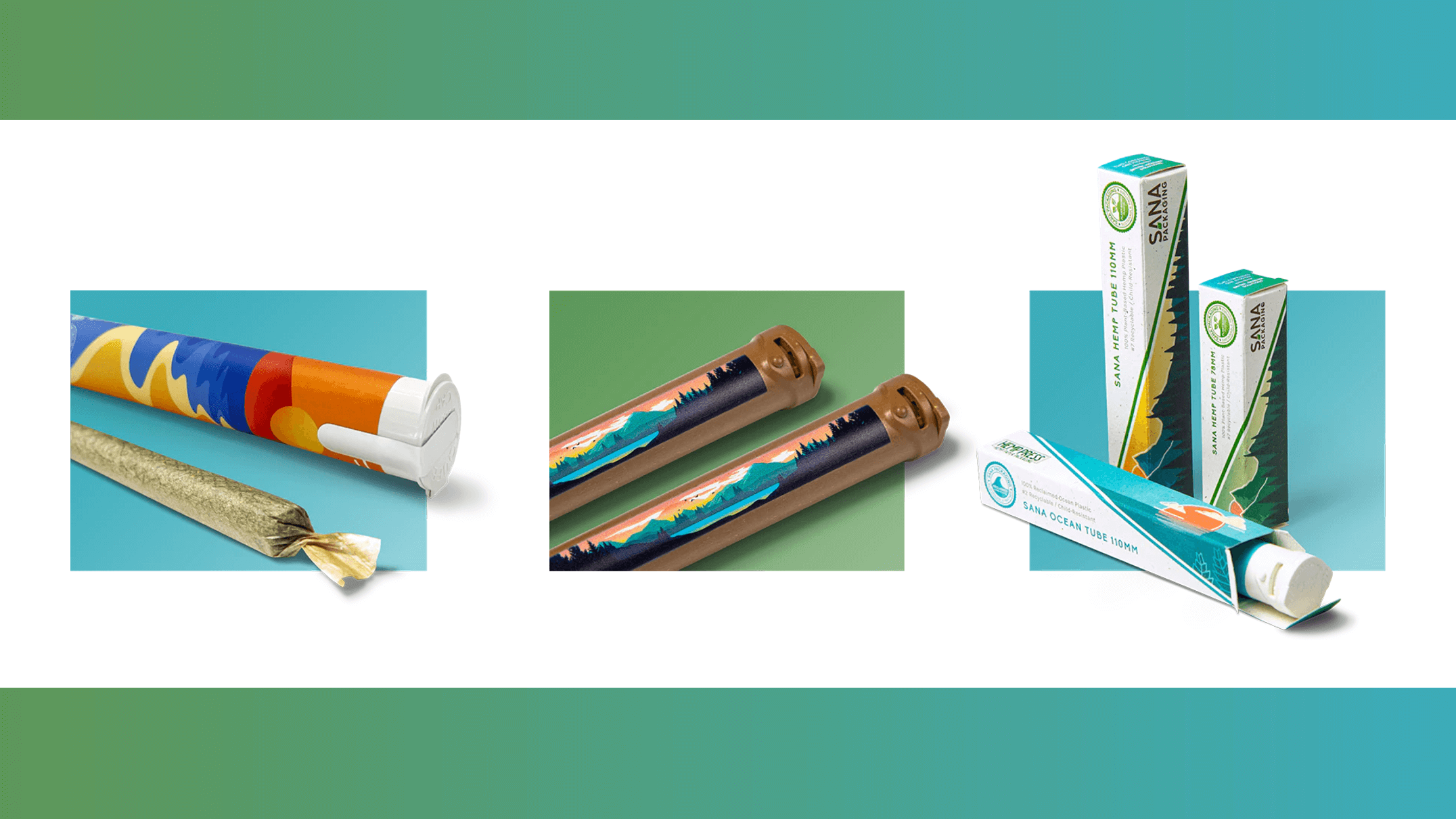 In recent years, pre rolls have become some of the most popular items in the cannabis industry. Though convenient, pre roll packages can also be a major source of single-use plastic waste. As customers become more concerned about sustainability, eco-friendly alternatives to typical child-resistant pre roll tubes are projected to become more popular. Here, we've broken down the options for sustainable pre roll packaging. 
What are Pre Roll Packages?
Usually, pre roll marijuana packages are small plastic tubes. They can range from just big enough for a mini joint to large enough for a pre rolled king-size cone or even a blunt. They typically have resealable flip-top caps, screw-off lids, or sometimes corks. 
Pre roll joint packages are tamper-evident and child-resistant to adhere to general packaging requirements. Many pre roll tubes are resealable and airtight, too.
Pre roll tubes can also be used to store vape cartridges and some disposable vapes, depending on their size and shape.  
Why is Pre Roll Joint Packaging Important?
First and foremost, pre roll joint packaging ensures the overall quality of the cannabis product. High-quality pre roll tubes keep the joint or blunt inside perfectly fresh and unblemished until it is bought and smoked. The airtight, smell-proof seal and tamper-evident marijuana packaging help to protect the quality and integrity of the pre roll itself
Pre roll packages also help keep consumers safe. Child-resistant packaging helps to ensure cannabis products won't fall into the wrong hands. Pre roll tubes printed with health and safety information also give vital consumer information. 
Finally, pre roll joint packaging allows brand leaders to make products stand out. Eye-catching custom labels, innovative design, and unique cannabis packaging materials will set your pre rolls ahead of the competition. 
Types of Sustainable Pre Roll Packages
Cannabis companies have access to more options for eco-friendly, child-resistant pre roll packaging than ever. 
Plant-Based Hemp Plastic Pre Roll Packaging
Pre roll tubes made from plant-based hemp plastic offer an eco-friendly alternative to traditional plastic tubes. Hemp tubes from Sana Packaging are 100% petroleum-free and chemical-free and help to keep conventional plastics out of landfills. 
Plant-based hemp plastic pre roll tubes are available in several sizes to fit a wide range of products. 
- 110mm hemp pre roll tubes perfectly fit a king-sized pre roll, 109mm cone, or 1g blunt. They will also fit a smaller pre roll with room to spare. 

- 78mm hemp pre roll tubes are perfect for mini pre rolls, 84mm cones, and 0.5g blunts. 
Reclaimed Ocean-Bound Plastic Pre Roll Cannabis Packaging
Pre roll tubes made from reclaimed ocean-bound plastic are also excellent options for cannabis companies looking for additional sustainable cannabis packaging options. Ocean-bound plastic pre roll tubes reroute plastic waste that would have likely ended up in the ocean and recycle it into new products instead.
Ocean-bound pre roll tubes also come in a variety of sizes and forms. 
- 110mm PET ocean-bound pre roll tubes fit king-size pre rolls, conventional pre rolls, 109mm cones, and 1g blunts. Sana Packaging manufactures these pre roll tubes with a reclaimed #1 plastic, the most widely recycled type of plastic. 
- 78mm ocean-bound pre roll tubes are perfect for mini pre rolls, 84mm cones, .5g blunts and vape carts. These tubes are made using reclaimed #2 plastics, which is the second most widely recycled type of plastic.
- 116mm ocean-bound pre roll tubes fit king-size pre rolls, 109mm cones, and 1g blunts. Sana Packaging makes these tubes with reclaimed #5 plastic in an effort to bolster the secondary market for this material.
How to Choose the Best Eco-Friendly Pre Roll Package for Your Business
Choosing the right sustainable packaging option for your pre rolls is essential. You must consider a few things to ensure you source the right cannabis packaging option for your cannabusiness. 
First, you will need to consider the products that you are selling. Is your company known for generously sized blunts and pre rolls? Or do you emphasize convenience and offer smaller pre rolls? If you also manufacture cannabis cartridges or small disposable vapes, you can even use the same tubes for multiple product lines. Sana Packaging offers various containers for different-sized joints. 
You will also need to consider your unique packaging and customization needs. What materials do you want to use in your manufacturing and packaging processes? What extra features do you need for your pre roll tubes? What state laws must you follow? Sana Packaging carries smell-proof products with many different options so you can find the perfect eco-friendly, child-resistant packaging solution for your cannabis business. 
Finally, think about what you want the pre roll package to look like. Sana Packaging offers several customization options and works with domestic American producers to ensure fast turnarounds and consistent quality. We can help your pre rolls stand out with branding, colorful custom labeling, and eco-friendly packaging. 
Custom Cannabis Packaging for Your Pre Rolls
Custom cannabis packaging is a must in today's highly competitive cannabis industry, and we all have a responsibility to the environment to choose eco-friendly materials and practices whenever possible. If your cannabis company is ready to switch to sustainable packaging materials,
contact Sana Packaging today
to learn more about our products and services.