Sustainable Cannabis Packaging Rules in NY: Compliant Business Best Practices
In a previous blog post, we discussed New York State's regulations on sustainable canna...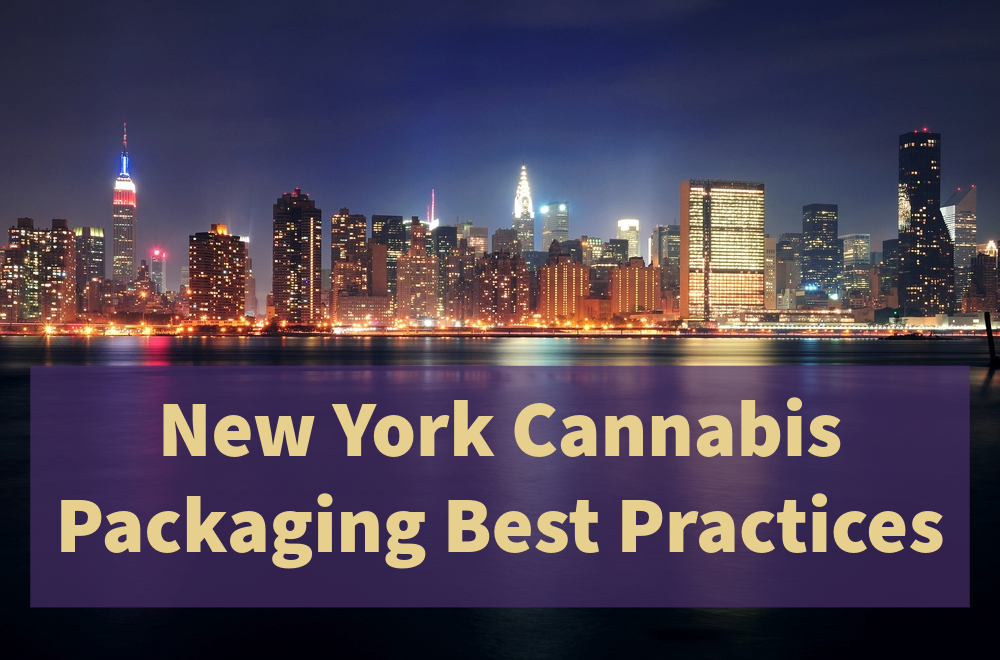 In a previous blog post, we discussed New York State's regulations on sustainable cannabis packaging. There's more to sustainability in the NY cannabis industry, though. Truly exceptional companies can take their eco-friendly cannabis packaging to the next level with Sana Packaging's help. 
New York Cannabis Packaging Requirements
Like all states with adult-use or medical cannabis markets, New York regulates cannabis packaging. The state has set itself apart with some forward-thinking requirements. 
New York Sustainable Cannabis Packaging Regulations
New York is currently one of the only states to require that all cannabis products sold in state-licensed dispensaries be packaged with at least 25% post-consumer recycled (PCR) materials. By emphasizing eco-friendly packaging materials, the Empire State is securing the sustainability of its burgeoning cannabis industry. 
Other Requirements for NY Cannabis Packaging 
As most states do, New York also has cannabis packaging regulations meant to ensure the safety of consumers. 
New York cannabis packaging must be:
- Child-resistant
- Clearly labeled with effects, warnings, and other product information
- Tamper-evident
- Resealable
- Airtight
Additionally, New York carefully regulates cannabis packaging to ensure it does not appeal to minors under 21. 
Best Practices for Sustainable, Compliant Cannabis Brands in New York
Though all New York cannabis companies must adhere to the regulations above, there is more that NY cannabrands can do to set their products apart, appeal to customers and ensure their product's safety and quality. 
Choose High-Quality Eco-Friendly Packaging Materials
Not all recycled packaging materials are equal. Choosing exceptionally high-quality materials for cannabis packaging ensures compliance, protects the integrity of the product, and encourages reuse, strengthening the circular economy for plastics and glass. 
Sana Packaging's products are thick, sturdy, and made from 100% recycled and reclaimed materials. 
Create Eye-Catching and Eco-Friendly Products with Custom Cannabis Packaging
Your cannabis company doesn't have to sacrifice aesthetics to create eco-friendly, compliant cannabis packaging for products sold in New York State. 
Sana Packaging offers full customization on all of our eco-friendly cannabis packages, allowing you to comply with regulations, minimize your impact on the environment, and stand out on dispensary shelves — all at the same time. 
Support Packaging Companies with Sustainability Initiatives 
In addition to using at least 25% PCR in your cannabis packaging, your company can further sustainability by supporting eco-friendly initiatives. You can do both by working with Sana Packaging since we make our recycled plastic products with reclaimed ocean-bound plastic. Sana Packaging lets your cannabis company comply with NY regulations and help keep our waterways clean at the same time. 
3 Advantages of Sustainable Packaging for NY Cannabrands
Choosing eco-friendly and sustainable packaging materials is the best practice for cannabis companies in New York for several reasons. 
1. Compliance With New York Cannabis Packaging Regulations
First and foremost, cannabis companies in New York must use sustainable packaging materials to comply with regulations. To be stocked on dispensary shelves, sold to customers, and to operate as a business in the New York cannabis industry, cannabis companies must use at least 25% PCR materials to package their products. 
2. Cultivating a Positive Cannabis Brand Image
Choosing sustainable materials can help cannabrands create and maintain a positive brand image. More consumers than ever are concerned with the sustainability of companies they support and the environmental impact of the products they buy. Cannabis companies can cater to these eco-friendly consumers by using eco-friendly packaging materials. 
In a state requiring at least 25% PCR material in all cannabis packaging, cannabis brands must do more to stand out. Consider opting for space-saving packaging to cut shipping costs, or use 100% recycled materials to do your part to reduce single-use plastic waste. 
3. Embracing Environmental Responsibility
Ultimately, we all have a responsibility to take care of the planet we live on. Companies in the cannabis industry, especially, need to take action to reduce their environmental impact. Choosing sustainable packaging and labeling options, like those from Sana Packaging, will allow your company to pursue sustainability as you help to grow the New York cannabis industry. 
Where to Source Sustainable Cannabis Packaging in New York
Sana Packaging is the best source for sustainable cannabis labeling and packaging solutions in New York. With a wide range of products, simple customization services, and an unmatched depth of knowledge on sustainability in the cannabis industry, we can help your cannabis company embrace eco-friendly packaging and positively impact the world.
Contact us today to source the packaging materials you need to comply with NY cannabis regulations.