What are the Requirements for Compliant and Eco Friendly Cannabis CRP in NJ?
As the cannabis industry in New Jersey begins to pick up speed, new and aspiring cannab...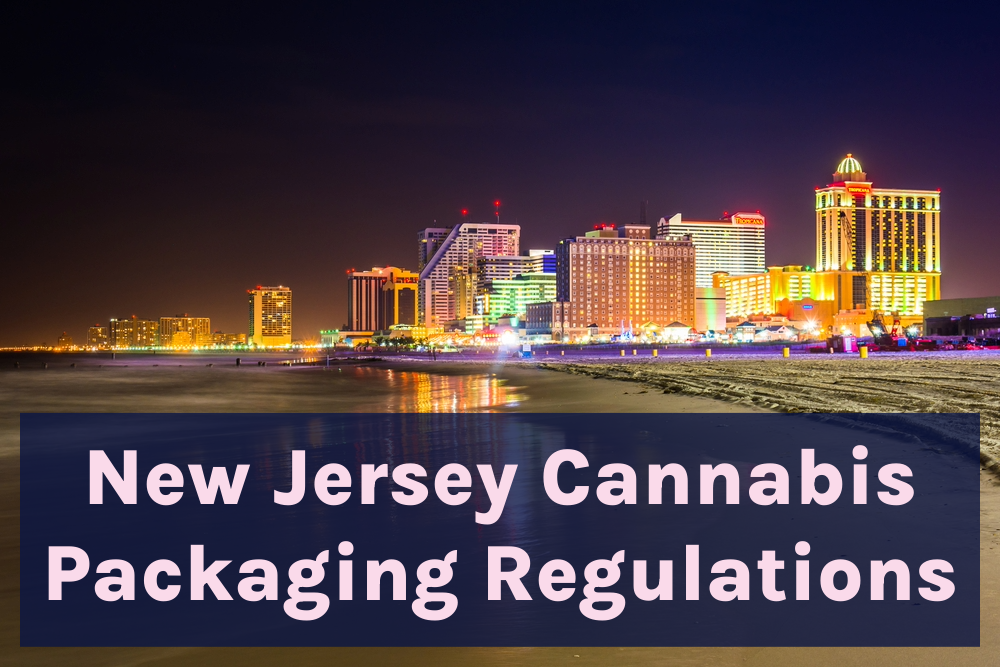 As the cannabis industry in New Jersey begins to pick up speed, new and aspiring cannabrands in the Garden State need to consider how they will package their products to ensure sustainability and legal compliance. Sana Packaging offers fully customizable, compliant, eco-friendly child-resistant cannabis packaging for cannabis producers throughout the Northeast, including New Jersey. In this article, we'll discuss what sustainable and compliant CRP looks like in this burgeoning cannabis industry. 
Cannabis Labeling Requirements in New Jersey
Like all states, New Jersey has specific requirements about the information on cannabis labels and what the labels can look like. 
NJ Cannabis Labels Must Display the Universal Symbol for Cannabis
First and foremost, labels on cannabis products intended for sale in New Jersey must display the universal symbol for cannabis. This symbol, a graphic representation of a seven-pointed cannabis leaf inside a triangle, can be seen on regulated cannabis packages across most states. 
The state of New Jersey has also set forth additional specifications on the size, placement, and exact appearance of this symbol on cannabis packaging. 
New Jersey Cannabis Labeling Cannot Appeal to Minors
Cannabis labels in New Jersey are also strictly prohibited from using imaging or rhetoric that might appeal to children or those under the legal age for cannabis consumption in the state. 
Cannabis companies can apply some common-sense guidelines to comply with this regulation. Cannabis packages in NJ should not mimic the designs of established candy or snack brands, should not feature vivid styles or cartoon characters, and should not encourage irresponsible consumption. 
Health and Safety Information Requirements on Cannabis Labels in NJ
In New Jersey, child-resistant cannabis packaging must also include various consumer health and safety information. Information that may need to be included on cannabis packages in NJ includes:
- Net weight
- Production and expiration dates
- Ingredients (including manufacturing ingredients)
- Cultivar name
- Storage instructions
- Growing method (for cannabis flower packages)
- Serving size
- Number of servings
- Cannabinoid content
- Poison control hotline information
- A clear disclaimer that the product contains cannabis
The exact information required will depend on the product type; flower has different labeling requirements than edibles. In any case, this information must all be clearly and prominently displayed on the cannabis CRP. 
Sana Packaging can fully customize all our products, ensuring your cannabis company complies with New Jersey cannabis labeling legislation. Our printing and labeling services are efficient, eco-friendly, and easy to use; additionally, we use local and domestic partners to cut down on shipping emissions and ensure you get your cannabis labels when needed. 
4 New Jersey Cannabis Packaging Requirements
Beyond the labels, the containers of the cannabis products sold in New Jersey are subject to additional rules and regulations. 
1. Cannabis Packaging in NJ Must Be Tamper-Proof
To be legally sold in New Jersey, child-resistant cannabis packaging must be tamper-proof and, therefore, tamper-evident. Features such as lid wraps, overwraps, and tearaway closures on resealable products can all help to keep the customer safe by ensuring that the product has not been tampered with or adulterated at any point between its departure from the manufacturing facility and its arrival at a dispensary or consumer's home. 
Most of Sana Packaging's products can be upgraded with tamper-proof and tamper-evident seals. 
2. Child-Resistant Cannabis Packages in NJ Must Be Opaque
Packages for cannabis sold in New Jersey must also be opaque. Opaque materials protect the product from light, which can degrade its quality. It also keeps the product obscured from view, reducing the chances that curious children will accidentally ingest it. 
Sana Packaging offers many opaque cannabis CRP container options, from our recycled, reclaimed ocean-bound line to our plant-based hemp plastic line. 
3. NJ Cannabis Packages Must Be Resealable
Cannabis packages that contain more than one serving of product must be resealable to be legally sold in New Jersey, keeping the product inside fresh and in optimal condition for longer. It also keeps the product safer; open cannabis products are more likely to be accidentally consumed by children or pets and can be more easily contaminated. 
Sana Packaging's preroll tubes, flower containers, and concentrate jars are all securely resealable to keep your cannabis product and consumers safe. 
4. Eco-Friendly Cannabis CRP in New Jersey
Though it's not yet an official state requirement in New Jersey, many states require recycled or sustainable packaging in their regulated cannabis markets. New York, a neighbor to NJ, has been influential in pushing for this change; it's not unlikely that the burgeoning cannabis industry in New Jersey will follow suit and require or encourage cannabis manufacturers and retailers to choose eco-friendly and sustainable CRP materials. 
All of Sana Packaging's products are sustainable. We care deeply about the planet and strive to revolutionize the cannabis packaging industry with eco-friendly materials such as reclaimed and recycled ocean-bound plastic, high-content recycled glass, and plant-based plastics. You can join us in making a difference by switching to sustainable packaging for your cannabis business. 
Where to Source Compliant and Eco Friendly Packaging Materials for Cannabis in New Jersey
Sana Packaging is the leading source of compliant and eco-friendly cannabis CRP. We are excited to serve clients in the New Jersey area. We are honored to help the blossoming cannabis industry in the state grow and thrive with our high-quality, customizable, and eco-friendly cannabis packaging. 
Contact us today to start making your New Jersey cannabis company more sustainable while adhering to state regulations.